At St Alphonsus' RC Primary School, our children are offered a range of healthy school meals which are prepared by Mrs Walker and her team. There is a wide range on offer to our children. The school menu changes weekly over a three week cycle. School meals are supplied by Mellors Catering Service priced at £2.00 / £10.00 a week and should be paid in advance on Monday morning or via parent pay. Children are welcome to bring a packed lunch should they wish. However, it is school policy that if your child wishes to change their school meal option this can only be done at the beginning of each half term.
School meals and packed lunches are taken in the dining hall.  Please do not send in drinks or food in glass containers. As a Healthy School we do not allow fizzy drinks or sweets as part of a packed lunch.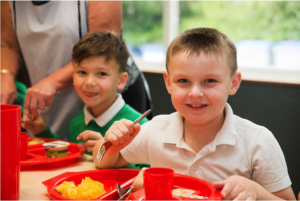 Mellors Catering Service
Mellors Catering Services is an established, family-run catering company that is part of the Mellors Food Group.  2017 is our 22nd year of trading and we are growing year-on-year.
As a local business, we are able to offer a bespoke service which is why we are the first choice caterer in the North.  We were recently awarded Cost Sector Contract Caterer of the Year.
We operate lots of local catering contracts in the North of England, mainly within Primary and Secondary schools.
Mellors Catering Services is committed to delivering an exciting choice of food to pupils with the help of our nutrition and food development team.  We pride ourselves on using fresh, locally supplied produce.
The menus are available to view below.